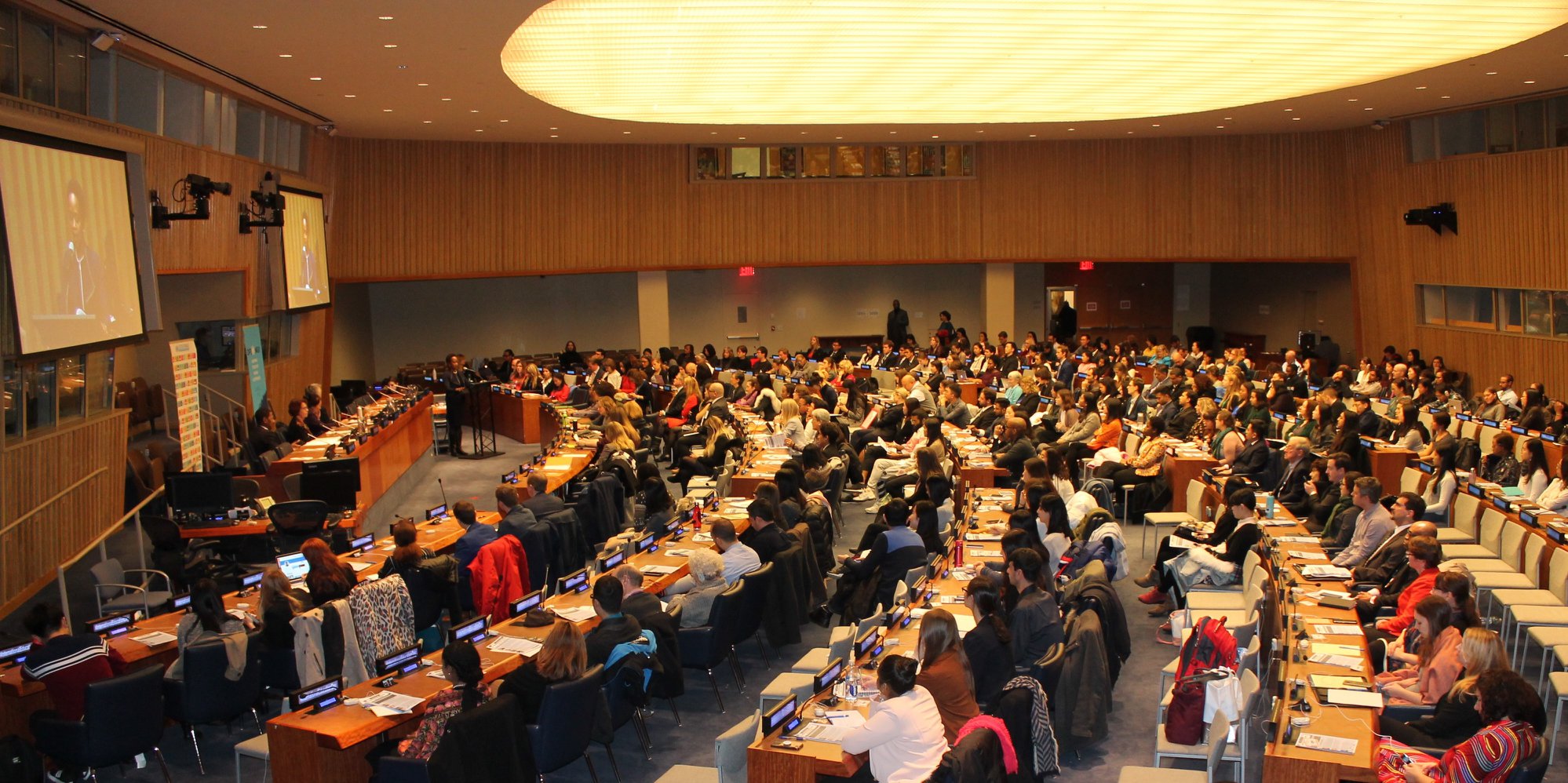 Through One To World programs, our lives are transformed by international experiences. Every day we are connected with students and scholars who are visiting the U.S. as they make our local communities their homes. As Romane Berti, an international student from France and a One To World Global Fellow said, "working at One To World and being around all these people from different countries that I've never visited, and meeting Americans from other parts of the U.S. has taught me that we connect with people on the most simple grounds just because we are all human."
One To World is built entirely around international education, so this topic is not merely a discussion point for us, but a value that we live by every single day. Our foundational belief is not only that international education is essential to society, but that international education is a critical component of higher education and of global citizenship overall. It is no surprise that International Education Week is a time for reflection, celebration, and advancement for One To World and our wider International Education (IE) community.
International Education Week (IEW) is a joint initiative of the U.S. Department of State and the U.S. Department of Education which is held annually, and seeks "to promote programs that prepare Americans for a global environment and attract future leaders from abroad to study, to learn, and to exchange experiences." International Education Week is an opportunity to celebrate and educate our global community on the benefits of international education which enriches our lives, communities, and countries. We use this week to celebrate the benefits of international education and exchange worldwide, and take a moment to reflect on the work that we do and the amazing students we get to work with. We are grateful that every day we are able to create a more connected and compassionate world, one person at a time.
Pre-pandemic, One To World partnering with Fordham University, New York University, Columbia University, and others decided to bring International Education Week to a global audience by holding the first ever International Education Day at the United Nations. International educators, higher education and nonprofit leaders, international students and scholars across the country, and members of the diplomatic community in NYC celebrated the role international education plays in creating a more peaceful, just, and equitable world around the theme 'Partners in Sustaining our Future – Sharing Goals in Global Stewardship.' The event was telecast live from webtv.un.org to ensure community members across the globe were able to take part in the day's events.
We began our day at the UN with opening remarks from esteemed guests committed to the IE community, including: Mr. Jeff Brez, Chief, NGO Relations, Advocacy and Special Events at the UN, Mr. Maximillian Angerholzer III, Executive Vice President of Institute of International Education, and, Dr. Esther Brimmer, CEO, NAFSA
The criticality of global leadership development
In our first session of the day, Samantha Lu, Associate Director, International Students Services, Columbia University, moderated a panel with Linda Tobash, Senior Director of Policy, Knowledge and Data, World Education Services, William Gaudelli, Dean of the College of Education, Lehigh University, and Calvin Sims, President and Chief Executive Officer, International House-New York City. This session presented the perspectives of three key leaders in the critical field of Global Leadership Development. Our panelist discussed how the multi-faceted skills associated with leadership development are more in demand than ever as the world grows increasingly smaller and faster. As globalization further evolves, successful leaders will need to possess specific strengths and skill-sets which augment their effectiveness in extremely diverse professional, political, and international contexts.
Education Across Borders: ideas, innovations and idealism from intercultural exchanges
Andrea Appell, Chief, New York Program Branch, Office of International Visitors, Department of State moderated the panel that included Jen E. Clarke, Executive Director of One To World, Felipe Zapata-Roldan, Physics Engineer, Fulbright Grantee from Colombia, PhD student in Technology Management, University of Bridgeport, and Konoka Shiino, international student affairs professional and former international student. This panel of international education professionals and international students themselves focused on the international student experience during and after their studies in the U.S. highlighting the value culturally, intellectually and fiscally of international education for both the Americans and the students.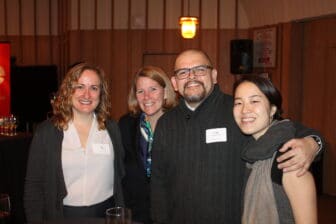 One To World's Executive Director since 2016, Jen Clarke, spoke on this panel as the head of the only non-profit organization that provides a comprehensive set of programs, events and initiatives that promote relationships between visiting international students and scholars with the communities in the New York metropolitan area. One To World is the Department of State's official provider of enrichment programming for visiting Fulbrighters in the New York area.
However, One To World is not Jen's only tie to International Education and intercultural exchange. She herself is an immigrant and firm believer in intercultural exchange and education. As a Canadian living in the U.S., Jen has had the good fortune to have traveled to 20 countries, including as a volunteer in Zimbabwe, and to work in Ghana and Zimbabwe. Her personal and professional network includes friends and colleagues from all over the world, many of whom were made when she was on exchanges. As Jen herself described,
"You know it can be a lonely experience, being a foreigner in a new place. We believe that academic education is just one facet of being here. We make sure international students get into American homes, schools and workplaces, that they develop meaningful relationships. For example, in our Conversations with World Leaders program, we bring scholars to visit some of New York City's prominent leaders, such as the Executive Vice President for Corporate Marketing at Estee Lauder Companies, or the Global Chairman of PwC, for an exchange of ideas about business, culture and the future. One of our most popular programs is the annual foreign affairs conference at the U.S. Naval Academy, in Annapolis. We recently did a similar program at West Point. This is a rare opportunity for international students to engage directly with their American counterparts for authentic discussions around important global issues. We have such an opportunity to influence the future, one person at a time."
We know that international students and scholars are a valuable source of revenue to not only the institutions where they study, but to the local businesses and ecosystems where they live. The One To World staff and community has had the pleasure of meeting thousands of international students throughout the organization's tenure. And we have had the opportunity to learn that international students and scholars don't regard their stay on U.S. campuses as a one-way street. To the contrary, they want to give back, to engage and to make a contribution.
Additionally, there's the impact from international students on job creation in the U.S. as they establish successful businesses. A number of famous start-ups were founded by international students including Moderna, SpaceX, and Robinhood.
In 2019 it was reported that 21 out of 87 "unicorn" privately held companies – these are companies valued at $1 billion or more – had a founder who was originally an international student in the U.S. In fact, international exchanges are responsible for 450,000 American jobs, contributing $42.4 BILLION annually.
But it's not just about unicorns and billions of dollars. It's about the higher ground achieved by international education. This may be harder to count and quantify, but rest assured it is as precious as market valuations.
As Jen went on to explain, "Innovation isn't just a nice-sounding word. Here at the U.N., it's explicitly in No. 9 of the Sustainable Development Goals, as part of the 'Industry, Innovation and Infrastructure' aims. Let's face it, we have some existential issues facing the world today, and innovation will be a key factor to us overcoming them."
As Jen delivered her closing remarks at International Education Day at the UN, she made a comment that rings true today "We all need to speak out to preserve the flow of international students to the U.S. This is One To World's major mission, and we add our voice to this important issue at every opportunity." This is exactly what International Education Week is for, celebrating and educating our communities on the value of international education, on both a local and global level.
This incredible day at the UN, in celebration and commemoration of International Education, was put on thanks to the United Nations and our co-sponsors:  Columbia ISSO, New York University OGS, Fashion Institute of Technology, SUNY, Fordham University, Institute of International Education, The City University of New York, and The State University of New York.
Every year during International Education Week, IIE releases their annual Open Doors Report, a comprehensive information resource on international students and scholars in the United States. Each year, as we celebrate the value international education brings to our global community, we are reminded of some of the struggles our industry faces, most notably, the decline in international student enrollment numbers. Between 2017 and 2018, new enrollments of international students at the graduate level were down by 5.5% and by 6.3% at the undergraduate level across the nation. As we take a look at this week's IIE Open Doors Report, these numbers have not improved. In fact, the 2020/21 report examines an academic year of unprecedented declines. International enrollments fell 15% in fall 2020 compared to the previous year, driven in no small part by the absence of first-year international students due to the pandemic. The financial repercussions of this tumble are also bleak, with a 27% reduction in international student contributions to the U.S. economy, according to a recent NAFSA report.
Over the past five years, the growth of international education in the U.S. has experienced a steady decline. We at One To World and our educational partners are alarmed by the implications of this. This is a fear that should be shared across the nation because other countries like Canada, the UK, Australia and even China are positioning themselves to attract more overseas students and scholars.
Meanwhile in the U.S., international students have been feeling more vulnerable, less welcome, and less safe on U.S. campuses. This is very frustrating to One To World and our partner institutions as well, because our goal is precisely that, to make international students feel wanted, welcomed and supported. And the results are in, we must increase student support service if we want to international student enrollment to rebound.
There is clearly a great deal of work to be done to reverse this downward trend and re-establish the U.S. as the premier destination for international students. But there is also cause for optimism. Fortunately, according to IIE's 2021 snapshot survey, new enrollments are up 68% this fall from the previous year. 
This year, we look forward with hope and determination after a difficult past few years for our community, characterized by shutdowns and policies which created barriers at every turn for international students in the United States and abroad. Throughout the pandemic, the International Education community has innovated and expanded, finding new ways to engage the global community and bring valuable education to those who have may not have been able to travel before. While the pandemic has exposed the current limitations of IE, our community has addressed these issues head on, and has used this difficult time to inspire change in the international education sector.
Although this year's IIE Open Doors Report details sobering numbers, IEW is still a time for celebration. We encourage everyone to get involved, whether they are a long-time member of the IE community, or are interested in learning what it is all about! Stay connected to One To World and greater community of global citizens and international educational ambassadors by signing up for our newsletter for friends and supporters. You'll be the first to hear about our and our partners events! Or follow us on social media using the icons below.