Mission
To advance global cooperation, One To World fosters intercultural understanding by creating face-to-face experiences among local communities, international students and Fulbright scholars.
Advancing international understanding in the Fulbright tradition
Who We Are
One To World engages the almost 100,000 international students studying in the New York-area (including over 800 Fulbright grantees) through programs that create understanding and build positive relationships between area residents and these unofficial ambassadors from all over the world. Our programs provide a unique opportunity for U.S. residents and international students to engage on an intimate level; having dinner inside local homes, sharing culture and experiences in the classroom, and volunteering their time together through community service projects.
Core activities:
Enrichment Programs: Each year, we work with international students and Fulbright grantees from over 140 countries through programs that enrich their experience in the New York area and broaden their understanding of contemporary life in the United States.
Global Classroom: Annually, this program works with over 500 K-12 students throughout the New York area to create global citizens through interactive workshops that engage students through meaningful intercultural exchange.
Professional Development and Peer Support: Through our Membership Program, One To World works with over 70 academic institutions all committed to furthering opportunities for international students throughout the New York area.
One To World is designated by the U.S. Department of State as the official Coordinator of Enrichment Programs for visiting Fulbright grantees studying in the greater New York area.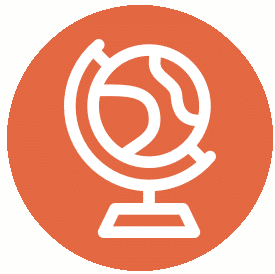 One To World Values
Curiosity: Encouraging the ongoing pursuit of knowledge and new experiences

Mutual Respect: Striving to understand different perspectives is critical to recognizing our shared humanity

Inclusion: Promoting the participation and contribution of all people

Community: Cultivating a sense of belonging through building relationships and a network of global citizens
History
Established in 1977, One To World, formerly known as Metro International, was founded by a group of foreign student advisers committed to building bridges between international students on campus and the broader New York community. What began as a series of orientations and publications quickly grew into a set of programs aimed at creating strong international relationships through intercultural awareness and understanding by creating multiple opportunities where people can come together face-to-face and share their perspectives, experiences, and lives.