Being an international student in the US is hard. But being an international student and trying to find a job, particularly in this job market, is harder. So, what are some of the strategies you can employ to find a job in this market?

We understand that networking may not come naturally to everyone, and can feel overwhelming at first. However, there are specific steps you can take to make it more manageable and less daunting. That's why we're here to list out the small steps you can take so it doesn't seem like a ginormous task that's difficult to accomplish. The first tip that Radhika Goyanka, one of the members of our community has, is this: Leverage your school network. Whether that's professors, your fellow classmates, or your alumni. These are the first people you can contact. 
Reach out to alumni of your program if you're trying to figure out what career path you want to follow. The easiest way is to go on LinkedIn and search for the students on your School's page. If you already know what career you want, then talk to people in your alumni network who are in the same field. Now, what if you are a pioneer and want to do something that no one in your program has done? That's completely fine. Just reach out to someone with a job that interests you. Most of the time, people want to be of help so they'll reply. 
Remember the golden rule: Never ask for a job! But in lieu of that you can ask them to put you in touch with someone else in the same field or ask them how they get started in this field.
Through our events and resources, we aim to create understanding and build positive relationships between area residents and these unofficial ambassadors from all over the world.
You've all heard about the elevator pitch by now. It's a short introduction about yourself that helps the listener gauge who you are personally and professionally. How do you write the pitch? Well, first things first, always change it according to the context of your interview. For example, your elevator pitch for a marketing position will be different from one for a teaching position. The idea is to highlight your skills and why you are good for that particular role.
You can start of by creating a template with the university you attended and the name of your degree. Next talk about your most relevant experiences and what skills you employed. Talk about the positive impact you have made through your work and your personality. And end with why you want to pursue the career in question and what your goals are.

Remember to craft it to maximize the information you can convey in that short amount of time. And it's understandable that it is going to sound rehearsed after a point but try to make it sound natural every time so that it sounds like you just came up with it.
When you finally land the interview: whether that's through networking or sending in applications (it's a numbers game), remember to do your research on the company you're applying to. If it's a marketing company, read up on their campaigns. If it's a company dedicated to fighting climate change, then read up on what their impact has been. Read up on the company's themes and values, read up on the key words used in their website, read up on their recent posts on social media. Reference all this by sprinkling in how much you value their mission and goals, how much you resonate with their values and how passionate you are about the impact of their work. You could also look your interviewers up on LinkedIn and see what they have posted or what issues they are interested in. The idea is to keep yourself informed about everything the company is doing.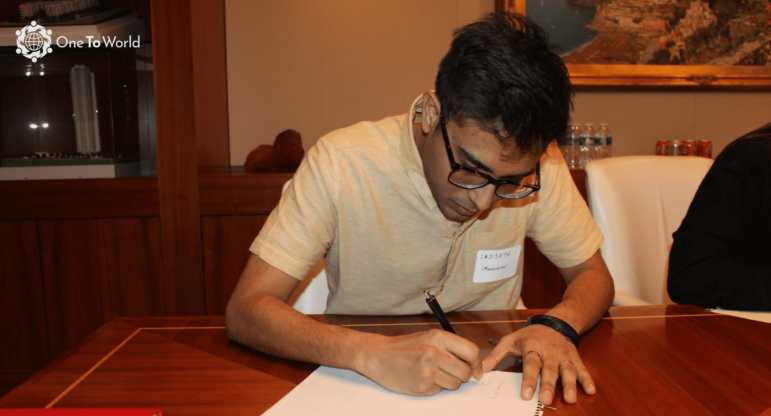 What happens during the interview? Well, you already know all about the company because you've spent copious hours reading up on them. But what kind of questions can they ask you? Some basic questions you should always have the answer to: Tell me about yourself, Why did you apply to this company and this role? What are your strengths and weaknesses? Where do you see yourself in 5 years? How do you handle high pressure situations? Do you have any questions for us?
Like all things, you become better at interviews as you practice. If the task of practicing for an interview alone is daunting to you. Don't worry. One To World has just the event for you. Paramount has a free session where you can practice your interviewing skills and gain invaluable prep for the job market! At this event with Paramount, you will get one on one interviews with working professionals who will give expert advice that will help you in the job market and for your applications. Join us to practice your interviewing skills, connect with professionals, and get your applications on the right track!
Finding a job that provides sponsorship isn't easy. Continuing on this journey in the constant face of rejection is difficult. Some days you might want to give up and that's okay. The key is to always come back up. Try and have an accountability buddy. Someone who checks on you from time to time to make sure you're okay and you are still on the path. Some days you'll have applied to 20 jobs, some days you'll want to eat ice cream in your bed all day. Don't beat yourself up for those days. Reach out for support from family and friends when you need it. Everyone is with you. And if you have no one, don't hesitate to reach out to us at One To World. We're always here for you!.
One To World brings local residents together with international students and Fulbright grantees, creating face-to-face experiences to foster intercultural understanding and build relationships that last a lifetime.  Annually, it provides over 100 programs for the more than 90,000 international students and Fulbright grantees who study at New York-area institutions. One To World engages these young global leaders representing more than 140 countries in American life, building cooperation, and respect among people from around the world.
One To World is designated by the U.S. Department of State as the official Coordinator of Enrichment Programs for the 800+ visiting Fulbright grantees in the New York area each year. When the late Senator J. William Fulbright authored legislation to create the Fulbright program over 75 years ago, he specified these enrichment programs as key components of it. He believed that the time Fulbright grantees spent off-campus would be as important as their academic studies in fostering cultural understanding and ultimately, a more peaceful world.